About Duane Jackson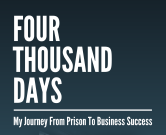 Four Thousand Days
My Journey From Prison to Business Success
If you're interested in reading my full story, I have an autobiography published on Amazon.
Click here for more details.
TL:DR Version
'Colorful' past, techie not an accountant. Started KashFlow, a SaaS accounting software company, which he sold at the end of 2013. Done sod all since.
Longer Version
Duane Jackson is a London- and Brighton-based technology entrepreneur..
Duane grew up in childrens' homes in the East End of London, left school with no qualifications and ended up serving a 5 year prison sentence for drug trafficking. He served time in US and UK prisons.
On his release, with a baby on the way, he decided to "go straight". It was at this point that he turned to the Prince's Trust for help.
In 2003 Duane received support from the Princes Trust to start in business as a web developer. He struggled to use products like Sage and Quickbooks to keep accounts so developed a web-based application for his own use. He eventually spotted the opportunity to sell this product to other small businesses and KashFlow was born.
KashFlow was one of the first Software-as-a-service (SaaS) products and was at the forefront of the move of software from he desktop to the Cloud.
By 2013 KashFlow employed 40 people and was serving nearly 20,000 customers. In October 2013 the business was sold to IRIS for an undisclosed sum that has been reported as being "in the tens of millions".
In 2015, Duane received the Pride of Britain Achiever Award.
Throughout this journey Duane was mentored by Lord Young of Graffham.
And Now?
I'm supporting various prison-related social enterprises including
Freedom Bakery
and
Code 4000
. I'm a patron of
The Prince's Trust
.
I also launched my own new product in October 2015. Supdate.com is a tool to help founders with the important, but often neglected, task of keeping their shareholders up to date.
External Links
I've been a bit of a media whore over the years, so there are a few external articles about me you can read if you're interested.
From Drug Trafficker to Tech startup Entrepreneur
June 2017, London Tech Week
A talk I gave at London Tech Week for the launch of the Prince's Trust online platform.
How a drug smuggler who got caught with 6,500 Ecstasy pills went on to build a $30 million tech business
May 2016, Business Insider
A profile piece by Business Insider
Prince Charles praises "extraordinary" Pride of Britain winner who is transforming lives
September 2015, Mirror
Some of the coverage from my Pride of Britain award win in 2015.
I Got Caught Drug Trafficking
August 2015, Guardian
A profile in The Guardian. If I'm genuinely as much of an arrogant twat as the journalist wanted to paint me then I deserve all the comments under the article
Podcast Interview with Duane Jackson – From Prison To Software Business Success
June 2015, TechForGood
An podcast interview from 2015.
KashFlow entrepreneur sells business for millions
October 2013, London Evening Standard
An Evening Standard article covering the sale of KashFlow
No-one would hire ex-con Duane Jackson, so he launched a startup
August 2013, Wired Magazine
An interview in the edition of Wired magazine that will.i.am guest edited.
He insisted they write an article about me after we met earlier in the year
Interview with Duane Jackson
2012, doeswhat.com
An interview from 2012 where I get to name drop a lot.
Duane Jackson: From prison to a successful business
August 2012, BBC Radio 4
An interview I did with Radio 4 in 2012. I was amazed at how many people heard this and how long they remembered it for.
Duane Jackson has gone from crime to company executive
August 2012, bbc.co.uk
After my Radio 4 Interview, the BBC asked to publish a follow up article
Images